I am VERY SORRY to see that many DEEPLY MISGUIDED individuals are voting against Temeraire in the next round over at Suvudu! But it is REALLY CLOSE, guys!

VOTE TEMERAIRE! He's a giant dragon! But more than that, he has REALISM on his side!

shhhh this is a totally legit argument when he is up against a sorceress who chats with gods but supposedly would spend most of her free time cooking and cleaning in a universe with medieval technology levels for fun! SORRY BUT HOW ABOUT NO./more trash talking

*waves pom-poms wildly*

ETA: ALSO JUST TO POINT OUT, POLGARA KILLS KITTENS

ETA2: kitten!temeraire illustration provided by
ormery: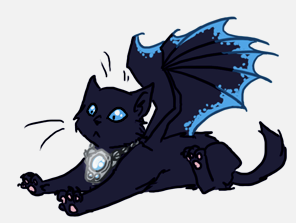 SAVE THE KITTEN!